---
When writing about The Law of Competition, Andrew Carnegie said "…while the law may be sometimes hard for the individual, it is best for the race, because it insures the survival of the fittest in every department".
Gamification has become a large topic of conversation in recent months, specifically in the fields of healthcare and retail. In fact, technology research and advisory company, Gartner, Inc. predicted that by 2016, businesses will spend a total of $2.6 billion on this technology. Although the projected numbers seem hopeful, industry thought-leaders disagree on whether or not the technology will be effective.
In a recent survey by the Pew Research Center, 53% of people surveyed said that by 2020 the use of gamification will be widespread, while 42% predicted that by 2020 gamification will not evolve to be a larger trend.
With this in mind, Kronos recently enhanced their Workforce Timekeeper application by adding Gamification capabilities into Workforce Central Version 7. This was done via a Service Pack (7.0.6), which was released in December of last year.
What is Gamification?
When presented at KronosWorks 2014, Kronos gamification was described as "the concept of applying game-design thinking to non-game applications to make them more fun and engaging and using game mechanics to promote desired behaviors.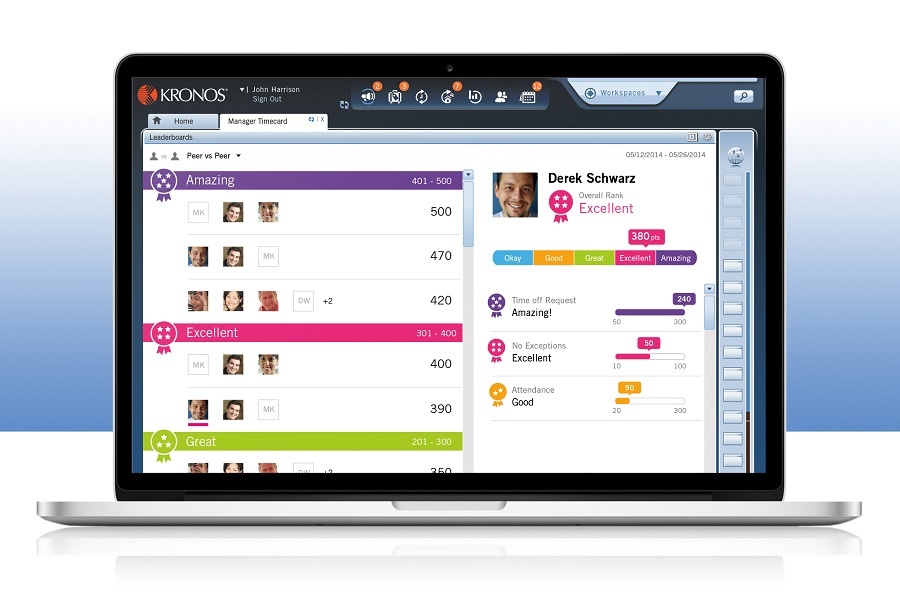 The capability allows employees to participate in configurable challenges and accumulate points, which are displayed on a colorful and dynamic Leader board widget. A second leaderboard view shows the relative standings for competing teams. Best of all, these leaderboards are viewable within the existing Workforce Timekeeper application, helping to improve communication and increase employee engagement and job satisfaction. The leaderboard provides constant feedback, achievements, and badges.
In many ways, the concept of gamification is familiar to individual users. There are multiple apps or programs, specifically for fitness, that use game functions to encourage or motivate certain behaviors. The game design is often successful because it engages an individual's natural desires in relation to competition, achievement, and collaboration.
Gamification can make normally boring activities into a fun and engaging activity.
Although there are multiple benefits to the gamification of Kronos applications, there are also concerns about the long-term success of this type of system. Gamers are entering the workforce in greater numbers than ever before, but there is speculation that the motivation behind gaming is social, not necessarily competitive. The gamification design creates competition between employees and exposes under-performing employees. The competitive aspect while possibly beneficial, could lead to HR issues by creating unhealthy or over-aggressive team behavior. Moreover, it could potentially lead to a Union grievance if not included in the Collective Bargaining Agreements.
Employee Engagement and Motivation Using Gamification
Despite some concerns, gamification still poses great advances in employee engagement. A recent survey, published by Gartner Inc., found that only 29% of employees are engaged at work, with 52% identifying as unengaged, and 19% as disengaged. Gamification aims to change that by relying on the currencies of social capital, self-esteem and fun to become more motivating than extrinsic rewards for positive performance. Beyond engagement, researchers are working to move away from competitive games to implement collaborative games instead; games that are designed to maximize business outcomes instead of rewarding a select few. Essentially, performance feedback will no longer come periodically from the top-down, but will instead be social, peer-based, and in real-time. With these types of changes, managerial positions will be less about control and more about the creative and strategic process of designing 'games' that engage employees while achieving specific business outcomes.
Overall, while Workforce Central gamification is an appealing idea, organizations must approach its use with caution. When starting to use employee-facing gamification applications, employees must not feel manipulated, but instead feel empowered to achieve organizational goals. This can happen if organizations ensure that the objectives for using gamification are clearly defined and that they understand how their employees are best motivated. When combined, these two factors create a people-centric application focused on employee engagement and motivation.
Do you want to stay up to date with the latest industry news?
Do you enjoy reading about Kronos and WFC best practices?
If you answered yes to one or both of these questions, click below to subscribe to our blog!