---

The Kronos Partnership Summit just took place on June 7th and 8th and I am so excited about the upcoming opportunities for Improvizations and the big changes in the field of Human Capital Management. I had the opportunity to network with over 60 different companies and 140 attendees at the event, developing valuable relationships with other experts in our field. I would love to share a few of the highlights from the event with you and get your feedback on everything that is happening in our ever-evolving field. Bill Bartow, the VP of Product Management, made the announcement that with the release of v8.0.11, Java is officially 100% removed from Kronos WFC Version 8.0.The removal of Java from WFCv8 is a huge accomplishment and big relief for many Kronos users as it resolves the issues users have been fighting with due to Java functionality.
Bob Delponte, the VP of Workforce Ready, made the second exciting announcement. Kronos has seen 100% growth YOY with the release of Workforce Ready. With global deployments across seven countries, the full suite is revolutionizing how small to medium-sized businesses manage their workforce. John O'Brien and Dave Gilbertson also highlighted Kronos 5.0 Transformation -- how Kronos is becoming a Cloud-based selling organization.
Another huge highlight of Summit was the keynote address by Deloitte entitled, Global Trends in Human Capital Management. The Workforce and the way we work are both constantly evolving. New trends in culture and in the workforce are paving the way for what Deloitte is calling the "New Organization."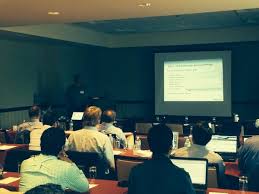 "The New Organization is built around highly empowered teams, driven by a new model of management, and led by a breed of younger, more globally diverse leaders." (Deloitte University)
Organizations are fighting over skilled talent in a workplace that is becoming more transparent and focused every day. Candidates expect both a strong employment brand and corporate culture. Digital technologies are revolutionizing the workplace in areas like diversity, inclusion, and learning culture.
Over the next couple weeks, we are going to dive into a blog series that discusses how Kronos WFC Version 8.0 can help your organization develop a Human Capital Management strategy that maintains a healthy corporate culture and a work environment that engages employees and creates leaders. We are going to discuss how to use Workforce Central Version 8.0 within the new organization.
Please comment below with your thoughts about the new organization and how Human Capital Management will be affected! I can't get the conversation started without you.
Mark Wilder - National Sales Manager
Subscribe to our blog to stay up to date with the latest WFM news, tips, and trends: