KronosWorks 2019
---
The momentum around new technologies was palpable at this year's KronosWorks, the industry's most-anticipated annual meet up recently held in Las Vegas. The Kronos team, partners, vendors, and customers each added unique perspective to the buzz around four topics: The InTouch DX, Dimensions, Boomi Integration, and system optimization strategies.
Top Trending Topics
Time clocks get a makeover. Kronos introduced the InTouch DX, a modernized time clock that personalizes information for each user via a modern, touch screen interface. The sleek, durable new device allows employees to punch-in/-out, view punch status, review punches, and transfer between jobs, locations, or projects at multiple clocks during a single shift. Administrators can configure InTouch DX to enforce schedule restrictions and instantly access and enter employee data in the cloud. They will also have real-time access to timekeeping, scheduling, and the latest employee data. InTouch DX is built specifically for the Dimensions platform but, don't worry — Workforce Ready (WFR) and Workforce Central (WFC) users will soon be able to use the cool, new clock in 2020 — so hang in there. Check out this very cool InTouch DX demo from Payroll Dynamics.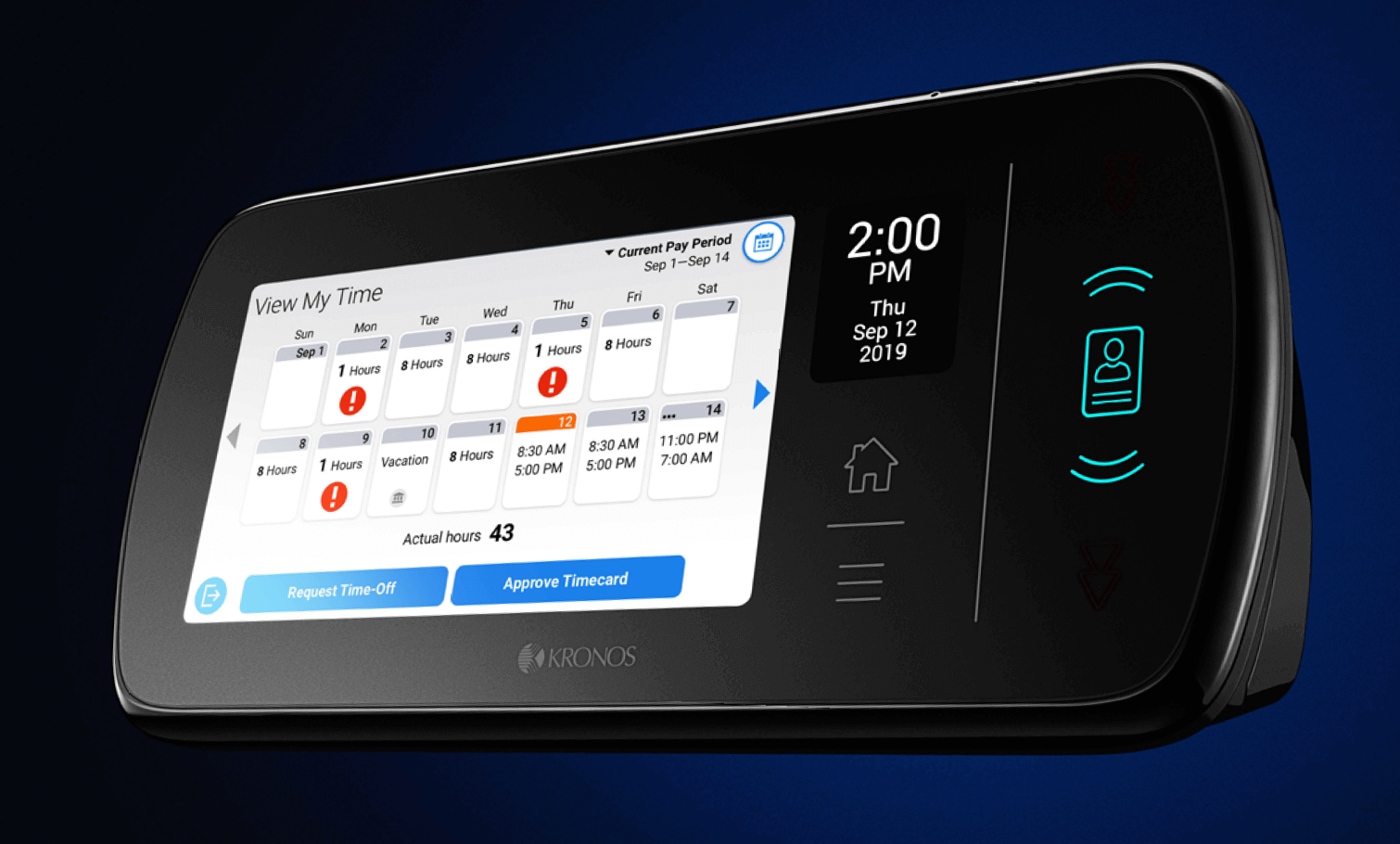 Image Copyright Kronos, Inc.
Dimensions migrations spike. A lot can happen in a year. As Dimension engineers continue to add functionality to this already powerful software, the increase in Kronos customers either preparing for or in the midst of a Dimensions migration, was far more evident this year. The most popular question we fielded from customers: How will we know if we're ready to migrate? The answer to that question is that every workforce has a unique profile; some would instantly benefit from Dimensions, while others are in a better position to maximize their WFC and WFR investments before migrating. (Read more about how to assess your Dimensions readiness.)
Integration is the new black. It's tough to talk about Dimensions without mentioning the engine behind the platform's crazy-powerful Integration Hub, Dell Boomi. That power sparked numerous conversations around iPaaS (Integration Platform as a Service) and its ability to bring a company's disconnected data into a single interface that's accessible throughout a company. By using an integration platform like Boomi, companies are quickly realizing they can break down data silos, increase collaboration and decision making, and accelerate time to market. This emerging technology has WFC and WFR customers asking a lot of questions about how to level up their integration efforts. The top question: Where do we even start the integration process? It's easier than you think. (Read more about Boomi integration technology and how to choose a Dell Boomi consultant.)
WFC, WFR focus on optimization. While there was a noticeable increase in Dimensions customers this year, we were equally engaged in upgrade and optimization solutions for both WFC and WFR customers requesting system assessments. With all browsers dropping Flash support in late 2020, many WFC customers are prepping to upgrade to v8.1.3. To optimize functionality, conversations turned to Advanced Scheduler and increasing Mobile capabilities. Why is Advanced Scheduler such a powerful optimization tool? Because it packs the biggest punch when it comes to impacting a workflow. Advance Scheduler allows managers to save time and money by automating manual processes, generating higher-quality schedules, reducing overtime, and boosting employee involvement in the scheduling process (shift swapping). All of this leads to reduced labor costs, higher efficiency, and employees who are empowered and engaged. (Sounds like a great day at the office, right?)
Our analysis
All KronosWorks gatherings have been impactful in their own way. Kronos has mastered every detail from the keynote to the certification programs to the learning sessions to the floor expo and quality connection events. Even so, we're going to offer the following Workforce Management industry analysis as it relates to Kronos' current trajectory. There's a fresh energy and creativity rising up in the halls of this company that's spilling over into Kronos service and technology partners sparking unprecedented innovation and collaboration. The effect of this symbiotic mindset? Working together, as a powerful Kronos collective, we're moving into and impacting the future of work not just as players but as unstoppable innovators.
Bravo, Kronos, bravo.
~~~
If you are optimizing WFC or WFR or ready to migrate to Dimensions, the Improv team can help you do that. Need to explore Dell Boomi's iPaaS integration? We're your certified A team. Get in touch with our Implementation experts today!