---
"However beautiful the strategy, you should occasionally look at the results."
- Sir Winston Churchill-
Strategic planning without analysis is ineffective. The design or evolution of a strategy should be based on analysis of previous results. Without understanding where changes need to be made, organizations may repeat costly and ineffective policies. Creating a strategy for Kronos training is no different. Analyzing previous Kronos implementations for training results can help successfully plan for the next one. For organizations that are implementing Kronos for the first time, inquiring into the experience of other organizations may be beneficial. User adoption assessments are a necessary part of the analysis process for any trainer. Without user assessments, we have no way to measure the success of the training and the overall product implementation.
"Presenting information about a new technology in such a way that it becomes an accepted part of an employee's work day regimen, ensuring they understand it and accept it as part of what they do."
Adoption is achieved through the Kronos Training cycle, which consists of: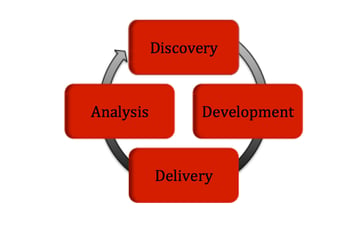 The first step in the Kronos training cycle is Discovery. During discovery, review all aspects of the training project. The "Who, What, When, Where and How" of the envisioned training should be covered. Organizations should complete a training framework during this phase in order to define learning goals for each user group.
Development begins after discovery is completed. During development, an organization designs the final learning event. Determine tactical details such as where the training will be held, who will be conducting the training, and what type of training will be used. The final training plan should be used as the ultimate guide for the learning event.
During Delivery, training is executed. Once the initial training is complete, employees begin to apply what they have learned and use the application. During this period of use, it is important to monitor feedback from all application users for User Adoption Assessments. We suggest interviewing employees and managers at day 30, 75, and 100. Ask detailed questions about each employee's interaction with the application to gauge overall adoption. Your assessment should cover the following areas:
Is the Kronos application allowing employees to meet their business goals?

Are employees trained on all functions necessary for their day-to-day responsibilities?

Have we equipped our employees with a learning experience that covered all the need-to-know basics of the application?

Does our infrastructure support the learning content and process?

Are our training materials up to date and adequate for re-use or reference?

Have we seen an increase in productivity and a decrease in support requirements?
The last piece of Kronos Training is Analysis. Often overlooked, Post Training Analysis is a crucial step in ensuring long-term training success. During this stage, analyze the results of the User Assessments you collected during delivery. Remember, no training will be perfect the first time. An important part of user adoption is making sure you hit the mark with training by regularly identifying areas of improvement. Ask detailed questions about each employee's interaction with the application to gauge overall adoption.
User Adoption Assessments are the best way to understand if your Kronos training successfully met your User Group's learning goals. Feedback from your users will give the clearest picture of what areas need improvement. If your users are comfortable with the application, they will have no problem implementing it into their everyday responsibilities. However, if they are uncomfortable or were not taught all of the necessary processes, the low level of user adoption will be obvious through the assessment. Whichever the case, the most important factor is acquiring the information to allow your organization to move forward with the best plan of action.
Are you ready to start your Kronos Training Plan?
If so, now is the ideal time to start building your Kronos Training framework. A training framework is the starting point in identifying the needs of your complete training plan. It is not to be confused with a final, detailed training document, but is extremely helpful for organizing preliminary thoughts and planning. If you are ready to start planning your Kronos™ Training or learning event, you can download Improvizations' training framework by clicking on the button below.