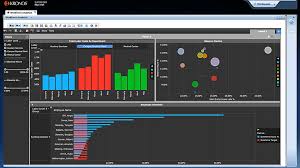 In an exciting move for small to medium sized businesses, Kronos Incorporated has officially released Workforce Analytics as a service. Kronos analytics gives businesses the ability to visualize workforce data through interactive technology that provides real-time insight into how labor hours and processes are effecting the organization. The ability to implement Workforce analytics as a service allows organizations with scarce resources to still benefit from insights into critical workforce trends from big data. Analyzing the data from workforce trends can help increase sales, employee engagement, and overall operational efficiency. Partnering with Kronos services gives SMB's the opportunity to get the most ROI from their analytics by benefitting from external experience and resources.
The Kronos Reporting and Analytics functions of version 8 are more visually compelling and full of actionable insight. The new layout implements improved navigation to allow for easy accessibility of data. There are integrated features from MicroStrategy's 9.4.1 platform, along with geospatial visualization. It is no longer enough to simply see a dashboard with predictive analytics; the new analytics feature is prescriptive, responding to violations and situations by sending alerts and changing schedules accordingly, without any input of a manager. Time and cost effective, prescriptive analytics allow managers to focus on tasks beyond labor analytics.
Analytics as a Service:
Workforce Analytics as a Service is built on data generated by Kronos WFC, delivering interactive visualization technology by translating workforce data into actionable insight. The new service allows Kronos customers to access WFM trends in an effective format, making it easy to quickly pull meaning from high-volume data.
By taking advantage of the data pulled from the analytics application, organizations can invest in interactive visualizations of actionable workforce data. The analytics offer trends such as:
Overtime Trends:
The total premium hours used by the entire organization can be used to identify trends and patterns to determine how to plan for the future. An example would be when hours begin rising during seasonal busy periods. If extra headcount is not added and planned for it can affect the overall organizational structure and bottom-line.
Unplanned Absences Trends:
Unplanned absences have a significant effect on workforce data. The varying type of unplanned absences, sick time, no call no show, extended leave, etc. should be thoroughly analyzed to determine the relationship between unplanned hours and regular hours. The necessary absence data can be filtered by week, department, and sub-departments.
Schedule Edits Trends:
Identifying schedule edit trends allows an organization to see the number of edits made over a period of time by a supervisor. This data can help which departments have a significantly higher volume of edits and which departments have more stable schedules. Once this data is identified, organizations can help employees adjust their personal priorities to accommodate work schedules. It also allows organizations to examine the reasons for any last-minute schedule changes, revealing if it is the result of a substandard practice or volatile labor demand.
Learn more about upgrading to Version 8.0 and the Analytics packages by downloading our ppt: Should you Upgrade?
Read More