---
It's the most wonderful time of the year but also the most hectic if you are a human resource or payroll manager scrambling to get everything in place for a smooth year-end.
And if you use Kronos' Workforce HR for ACA reporting, one of the biggies on your to-do list is installing the 2018 Affordable Care Act (ACA) Kronos Service Release and Patch that's now due.
Compliance Deadline
Under the ACA employers are required to determine which employees are eligible for coverage using the "look-back" period (the 3-12 month time frame to determine which part-time employees should be reclassified as full-time). Kronos users can meet ACA compliance requirements by reviewing employee information about average hours worked and using the system's auditing and reporting tools.
According to Improvizations Senior Consultant Nicole Clark, if they haven't already, managers need to request or coordinate the Service Release/Pack and Patch install and test the new ACA features, which includes improvements to forms and Federal updates.
"This Service Release is for customers who use Workforce HR to complete their ACA activities for 2018," says Clark. "We really are down to the wire for this Service Release and because most Kronos HR versions require a full patch, an instance rebuild is required, which means it will take longer to install."
Clark added that if you are Kronos Private Cloud (KPC) customer you can put in a ticket with Kronos Global Support (KGS) and if you are a premise-based customer you download the Service Release/Pack and Patch from the Kronos Community site to install. Every Kronos version has a corresponding Service Release and Patch (see graphic, right).
3 Reminders for Year-End Install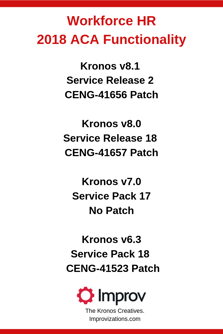 Two-step install. With this particular release users must install both the Service Release and the Patch. It's important to make sure you do both if it's required for your version of Kronos.

Instance rebuild required. Plan for both install and testing, a process that should take about 6-8 Install on your development environment then test prior having it installed on your production system.

Test your forms. According to Clark, it's important with the 2018 Release to test your forms because a lot of the Release pack changes are related to changes in forms. In addition, the Federal Poverty level increased for 2018 as did the Affordability Percentage.
Compliance is a big deal so a little end of year panic is okay and means you take it seriously. Here are some key dates to put on your calendar to keep you ahead of the compliance curve in the New Year.
Form 1095-C submissions need to be filed by January 31, 2019.

Form 1094-C submissions need to be filed by February 28, 2019, and all

Electronic submissions need to be filed by April 1, 2019.

The IRS extended the deadline for providing Form 1095-C to your employees. It's now due to individuals by March 4, 2019.

They IRS has also extended their "good faith effort" for 2018 forms, which means even if you file incorrect Forms 1095-C or forms with incomplete information you may be excused from any penalties. This doesn't apply if you miss your deadlines, though, so be sure to submit forms and reports on time.
Happy end of year hustle friends — and don't forget to grab a holiday toddy to toast the many accomplishments you and your team have made this year! ~ The Improv Team