For most, Memorial Day is just another long weekend to enjoy sunshine, summer, family, friends, and great BBQ. Improvizations' employee, Chris Madsen, hopes to remind people of the true meaning of Memorial Day. Since last summer, Madsen, who with Vern Gibson co-chairs the Fremont Avenue of Flags, announced plans for a veterans park. Madsen said the park will honor all those who have served, are now serving or who will serve this country. The park is currently under-construction in Fremont, Nebraska.

The park will include a hexagon monument in the center of the memorial's concrete oval-shaped base. The monument will include pictures and information about conflicts and wars in which the United States has been involved. Photographs and graphics will be etched into the black granite monument with a laser. Six monoliths will be built to represent a branch of the military and a large statue — to be lighted at night — will be situated in the oval-shaped memorial. The statue will depict a soldier holding a folded American flag and kneeling at what's called a Battle Cross — a cross with a fallen soldier's boots, helmet and rifle.
At the base of the American flag memory tiles will be displayed including the service person's name, branch of service, years served, which conflict/war they served in, if they were a prisoner of war and/or if the person was killed in action.
"We're still in need of donor support to finish the project," said Chris Madsen, Veteran Park chairman. Madsen is working with local veterans groups to raise funds to construct the park. "Every commander of every veterans group is part of the committee and all veteran groups are part of this project," Madsen said. "They've all been to the meetings. Our committee is fully backed by every veterans group in the community."
Improvizations' is proud to call Chris Madsen part of our team. In remembrance of the men and women who have sacrificed for our country, we would like to share some of the Memorial Day speech that Chris will give this weekend at the new Fremont Veterans Park.
Memorial Day: May 28th 2018
"What does this day mean to you? We have all been busy throughout the year and Memorial Day is the kickoff to summer, BBQs, drinks, family and friends. This is what usually takes place on Memorial Day. I ask that each of you no matter what your plans are, to at least take a moment to reflect on why you have those freedoms.
Remember to stop, take a deep breath, and reflect on those who are no longer here. In that quiet moment think of them to let them know you have not forgotten and to say thank you. Then have a drink for them… and one for me."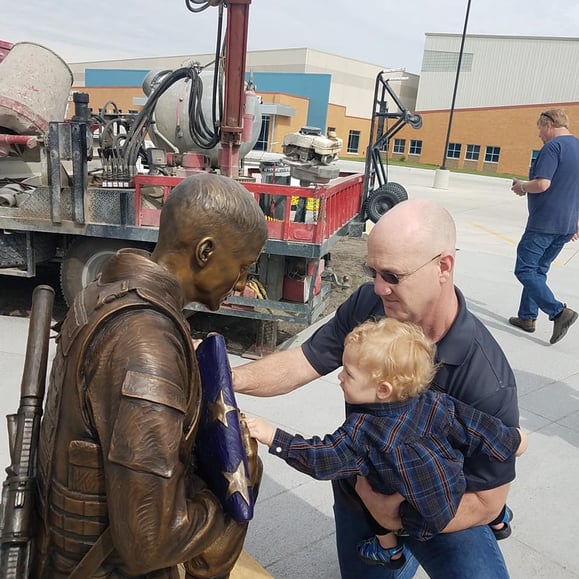 Happy Memorial Day from the Improvizations' family. Thank you for your service.
To support Chris Madsen in his efforts to build
the Fremont Veterans Park click below: